What goes up must come down and after yesterday's huge ascent up to the top of Schafberg today's walk was all about the long descent down to Weisbenbach. Completely different sort of walk as well, particularly at the beginning, which was all ropes, ladders, slippery limestone and absolutely amazing views.
Above the clouds from Schafberg
Christine continues....
After sleeping nearly 10 hours, John woke me up by insisting I look out of the window. It was breathtaking. We were up in heaven with distant peaks from the earth below poking through the cloud blanket. What a place. Far better to stay the night and enjoy the early morning views before the crowds of earthlings came up on the little hobbit train from below.
From the viewing platform at Schafberg
We breakfasted with a crowd of enthusiastic Germans who quickly demolished the bread rolls and ham. Good job we got down to breakfast first.
How to get down from this huge peak? My instinct was completely wrong. Instead of going east (which would have taken me off the edge of a cliff) we went west and then an old sign through a small rock arch pointed into space and invited us down a steep zig zag path down the cliff face. Fortunately we were able to grab the wire ropes. I decided to let John go first. I had Prince's 'Controversy' on my brain and kept singing it out of nerves, much to John's annoyance. Once we got past the worst bit we could stride out but the limestone was slippery and you had to concentrate.
From Schafberg with Mondsee below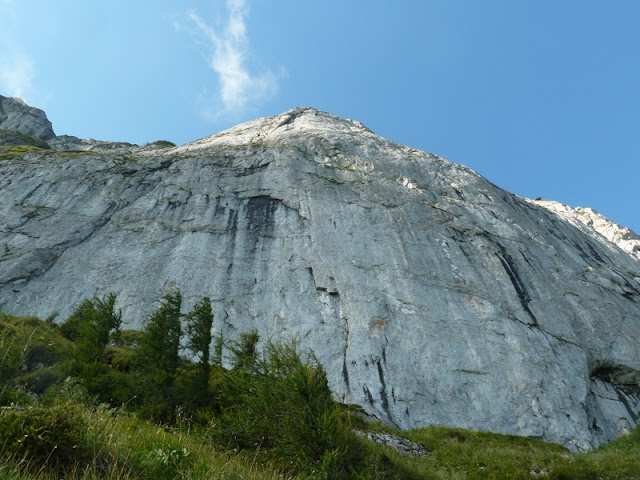 Underneath the Schafberg cliff
After a bit we got into trees and continued down through mixed beech and conifers until opening out onto a grassy plain hosting a well appointed hut. Time for coffee and strudel.
We then continued walking east, the sun now beating down and hot, following the side of a steep mountain stream before going up and onto a forest trail. Then down down down, feet hurting by now, lycra clad cyclists passing us but them struggling uphill in the blazing sun.
We got to the shore of Attersee around 1.30 pm then walked along a hot road to Weissenbach, a small nonentity of a place. Trouble then, as the Gasthaus Goldenlamm booked from England turned out to be in a Weissenbach in a totally different region of Austria.
Attersee
Luckily found somewhere else, and decamped to the lakeshore for the rest of the afternoon enjoying swimming in the lake.