Nice 30 kilometre walk through what I think is another park centred on the Gerecse mountain (633 metres). Started walking at about 8.30 and finished at 4.
Stayed in a modern hotel in Tatabanya so got a taxi back to roughly the same point at which I finished yesterday. Staying away from trail in Tatabanya worked very well and if I didn't object to walking on hard surfaces so much I could have followed a spur of the route in and out the town.
Not quite the same autumnal morning today as yesterday, the air was dryer and the sun beams looked dusty rather than luminescent, but still a brilliant start to the day.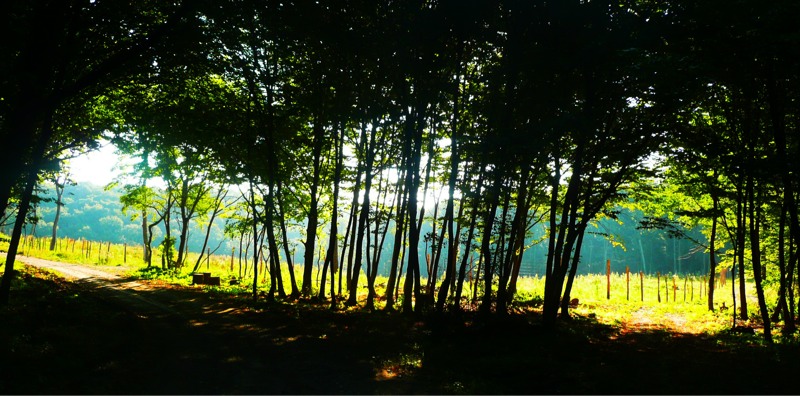 The crunch of acorn shells under your feet and occasional acorn falling around you reminded of the fact that most of the forest was oak. You would have thought woodpeckers would have preferred a softer wood but the constant tap tap tap suggested otherwise.
What made today different was the number of walkers out on the trail. A lot of really fast walkers. Must admit I do like someone to pace myself against. So when someone comes flying past me I let them get about 50 metres ahead of me then try keep up with them. Must be really annoying, when you think your walking much faster than someone only to find them keeping up, you must think your slowing down. Really enjoyed keeping up with one guy who had walking sticks, walking gloves and lycra shorts. At one point he started running which in my book means his nerve had cracked - disqualification and another gold medal to the British Team. Small things for small minds but it certainly made the hours tick by.
Most of the walk was through trees although there was also some nice open bits. Strangely you walked around Gerecse rather than to the summit and several times there were hints of views across what I guess was the valley of the Danube but these never quite materialised.
By early afternoon I was starting to pay for my speed walking and stopped for a sustained breather at a picnic point just to the east of the Geresce mountain. A quick glance at my map seemed to suggest that perhaps I'd only got about 7 kilometres to go. Encouraged of I went (was now sharing navigation duties with another walker), essentially down hill (but including 300 metres of horrible nettles/brambles), then uphill to a very busy pilgrimage place at Pelifoldszentkereszt.
After the nettles and the heat, and thinking that I must be close to the end I checked the map. There was a K+ route which went directly to Mogyorosbanya or a K route which went on the usual meander and was twice as far. Only the unadulterated K routes come with the unadulterated white and blue stripes so I felt I had to stick with them. Initially found myself in a procession of pilgrims and then, beyond them, a "swarm" of speed walkers - amongst which was my man from this morning - and he was definitely not alone in his Lycra.