In quick succession this morning two things happened that made me think that perhaps I have been making hard work of walking in Hungary. Firstly I found the map I needed in a tiny little shop in Vargesztes and secondly I worked out where you can get public wifi. I suspect the maps are everywhere but I wasn't looking hard enough to find them and I've seen loads of the wifi signs but didn't experiment to see if I could use them.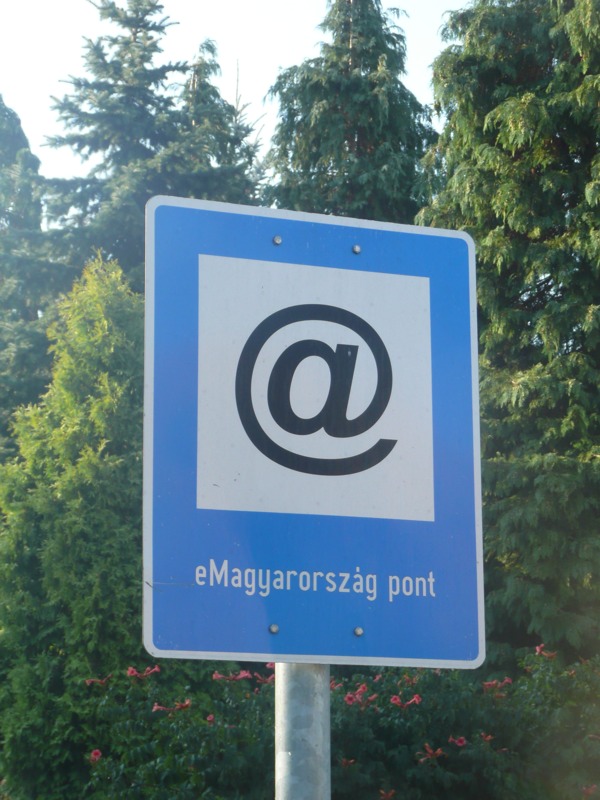 Anyway no need to beat myself up, I've survived, within three days of Budapest and less than 100 kilometres to go.
Got away nice and early this morning and was leaving the village at about 7.30. When I started this walk in southern Spain spring was only just beginning to break through and in the mountains winter was still in control. Today in Vargeztes, it felt like early autumn. The swallows were gathering on the electricity cables, the dew was so heavy that the water was dripping from the trees and there was a slight early morning mist.
Once in the forest it was magical. The moisture in the air, and the sun which was still quite low, produced the sharpest sun beams I have ever seen. They shone through the trees like spot lights on an enormous stage set - absolutely arresting and this lasted for at least at hour and until the sun was strong enough to dry the air out.
Eventually left the trees and headed down into the little town of Szarliget. Under no real time pressure today, it was getting hot, so stopped in a bar for some shade and a cold drink. It was about 11. 30 and I'd already done more than half my planned walk.
Leaving Szarliget, and after walking alongside a road paralleling a noisy motorway, got into nice open countryside before a walk alongside a series of lakes. Saw a kingfisher flash past over lake - a blur of turquoise - and a couple of deer. There was also a line of large white vans, and a crew preparing a set for filming - like being back in London.
For once the wonderful white and blue signs let me down. Arrows on a pole clearly suggested straight on but I couldn't find the track. Following a really rough track and got my legs covered in little lacerations. Eventually worked out that the track was a right turn before you even got to the distracting signs on the pole. Temper not improved when I managed to snarl then rip my rucksack on some deer fencing you somehow had to get through.
Had my second lunch at a shelter at Kulcsoshaz and then down past Tornyopuszta to the road. Had decided to leave the trail, no accommodation, and stay in Tatabanya. Just got to the bus-stop, was studying the timetable, when the squeal of air breaks behind signalled the arrival of the bus. Into Tatabanya and it was still only 4 o'clock - compared to the last two, today's been an easy one.
Tatabanya is a new town, which is good, under no pressure to go and look at buildings.