Got an Elton John lyric stuck in my head "someone saved, someone saved, someone saved my life tonight". Of course that's being a bit too dramatic but after arriving in Vargeztes after a 46 kilometre walk, wandering around the village trying to find the guesthouse and to then find a man in the village bar who drives me there (turns out that the guesthouse owner is his friend), acts as translator all evening and then takes me to his house so I can use his wifi, then I'm sorry but song feels appropriate.
Was also really well looked after in the Karolyi Kastely Hotel last night. Nice dinner and they kindly agreed to do me an early breakfast so I was walking by about half-past seven.
As I understand it today's walk has been about two national parks - a smaller one this morning and a much bigger one this afternoon. The middle section involved crossing a valley to get from one to the other.
Before getting to the first park I had to complete the trip around the Fehervarcsurgo reservoir, lots of people fishing, and then through an extended area of what could have been holiday homes.
The park was very pleasant with the walk following a stream along the bottom of a limestone gorge. About a third of the way up there was small lake and two very big guys were having a swim, the water looked very green and there were dense shoals fish swimming close to the surface.
After a short climb out the gorge and a walk down a ski run (very short ski run) I was in the fairly large village of Bodajk. Spent a bit of time trying to find some wifi before heading of across the valley to Csokako. This was all road walking and in fact was offered a lift on the long slog up to the town but, graciously I hope, turned it down.
Csokako is a sort of gateway to the second and much larger Vertes park, a gateway which is guarded by a spectacular castle.
Csókakő Castle
The park provided some lovely walking, a range of different forest types including oak, beech and pine as well as some more open countryside. The paths were excellent. The only problem was that, like yesterday, there was a lot of walking to do. At 12.30 I saw a sign saying that I had another 30 kilometres to finish and it would take 10 hours.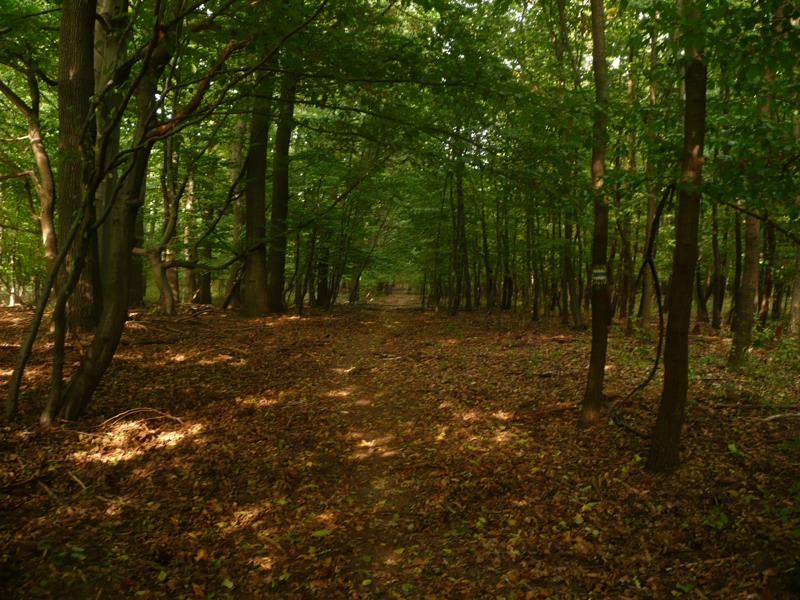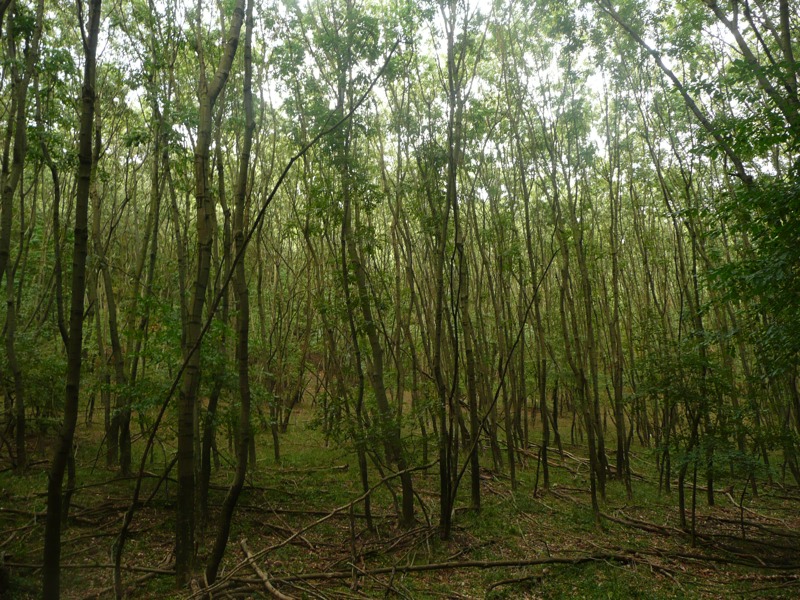 Worth noting that I have not been able to buy a map for this part of the walk. Looking at the map on the wall in the guesthouse, the Vadaszhaz (another really kind Hungarian couple running it), I was amazed to see what a meandering route the E4 took through the forest. Good job I didn't have a map, would definitely have been tempted to take a short cut.
Had originally thought about staying at Kohanyaspuzta but was there by 5.30 and thought that accommodation would be easier at Vargeztes, the next village on. Arrived there at just after 6.30, got some confused instructions on where the guest house was, couldn't find it and rest is just an Elton John lyric.