Well if it wasn't a 50 kilometre walk it certainly felt like it. Bashing along for 12 plus hours plus, under pressure all day, it really was too far. With the benefit of hindsight I should have carried on walking yesterday and then caught the bus back to Zirc. Today could then have been more sensible.
As it was I had my first Hungarian "lost in translation" moment in Zirc. I was the only person in the guesthouse and thought I was getting dinner last night and breakfast early today. I was wrong on both counts. When I wondered down from my room last night everything was shut up and it was still shut when I got up this morning. Made do with burger and chips last night and bought an enormous Hungarian equivalent of a pain au chocolate at a baker this morning. Dodgy 24 hour gastronomy but it's home cooking from next week so who cares.
Not having breakfast actually saved a few minutes time wise so at least I was away by just after 7. Again the weather was perfect for walking.
Getting our of Zirc was very straightforward, a walk along the side of a road for about 4 kilometres to the village of Nagyesztergar. The walk then followed a little valley firstly to the village of Bakonynana and then to the village of Jasd. Was particularly nice just east of Bakonynana and the paths looked well used. Worth mentioning that as well as the blue and white markers, bits of blue plastic hanging from trees are often used to denote the trail. There was a particularly interesting variant to this near Bakonynana.
Despite the markings somehow missed the trail heading into Jasd and got on the wrong side of the little river. Must have wasted about 20 minutes getting things right again.
Heading up a steep path through huge beech trees out of Jasd and on the way to Tes found a man sitting on the floor picking enormous blackberries. He persuaded me to try one and it was amazing. He then insisted I took a whole bagful away with me which I managed to consume over the next 30 minutes. Nice man!
Had a very fast lunch just after Tes (pizza from the bakery, two apples and two muesli bars) and within about 5 minutes was moving again. Same sort of walking for the next couple of hours (beech and oak forest with the occasional open field) with various features along the way (including an open air chapel).
Mid way through the afternoon, and about an hour away from Bakonykuti, the countryside started to change. The trees turned to pine, everything took on drier more burnt out look and the tops of the hills were open. For a while I was walking alongside a feature that looked like a shallow gauge. I think the geology may have changed back to limestone.
Had my second encounter of the trip with a snake - very nearly stepped on it - whatever sort it was it wasn't concerned and wasn't moving.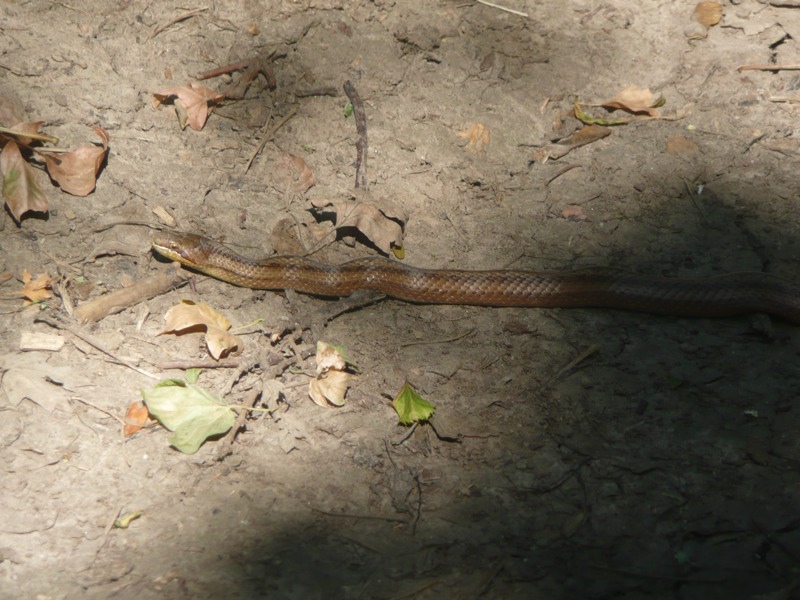 The last stretch from Bakonykuti to Fehervarcsurgo included some very open heath like stretches. There was even a young shepherd pushing along a mixed flock of sheep/goats, something I haven't seen since Andalucia.
Was in Fehervarcsurgo just after 7 and it wasn't obvious where the accommodation was. After wandering around made a dash for the castle and managed to get a room just before the restaurant closed. Very grand and my room even had a bath which is exactly what my sore feet needed.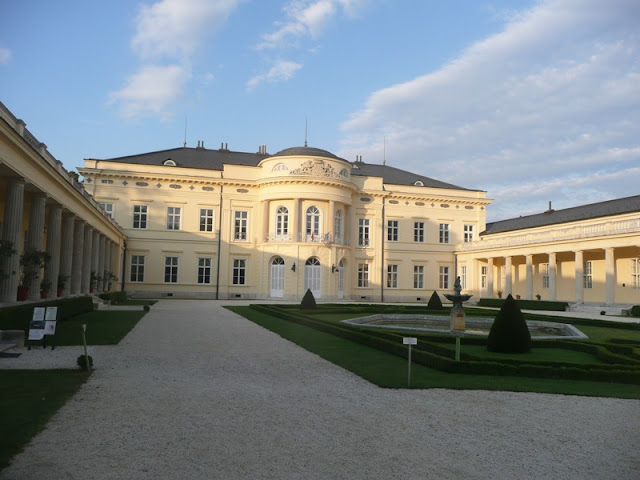 Karolyi Kastely