The plan was to stay at El Boixar but there isn't much accommodation there and sure enough when I tried to book on Saturday it was all gone. This was a real pain because just after El Boixar, at Fredes, things navigationally get a bit more complicated. So far the E4 has followed the GR 7 but at Fredes and it heads down to Ulldecona, near the coast, on the GR8. Couldn't find any accommodation at Fredes and the only accommodation I could find was at a place called Moli l'Abad which looked about 15 kilometres to the east of El Boixar. So I decided not to go to Fredes but go direct from El Boixar to Moli l'Abad, stay there for the night and then try and find the GR 8 again next day and continue to Ulldecona.
By the way the GR 7 carries on all the way to the Pyrenees. The E4, which travels along the coast to Tarragona, and through Catalonia to the Pyrenees ends up almost in the same place. I must admit I'm sorry to be leaving the GR 7 not least because I had the route well defined on my GPS. My E4 GPS route is very messy in Catalonia so I'm bound to get lost.
So I was a bit fed up when I left Morella, fed up about having to contrive a route and fed up about the weather which continues to be poor. Spending my time trying to find accommodation last the night (fortunately I had an internet connection) meant I missed the supermarket and all I had with me food wise was the last bit of my birthday cake and a lump of cheese.
After about 4 kilometres I left the road and headed up along a farm trail where I met a farmer who was rounding up his cows. Everything was very wet and I started to gingerly cross a stream. The farmer, who was in the middle of his cows and associated mud, and was wearing bedroom slippers, kindly pointed out the stepping stones.
The route follow the stream along a valley and then climbed fairly gently to the top of a ridge. The stream included some brilliant natural swimming pools. As you got higher you had some great views back to Morella spoilt a bit by the murky weather. The ridge walk itself went on for 2 or 3 kilometres before eventually descending through an oak wood, which has just come into leaf, to the town of Vallabona. It was now pouring with rain and at just before one o'clock I decided to stop for some lunch.
Lovely Swimming Opportunity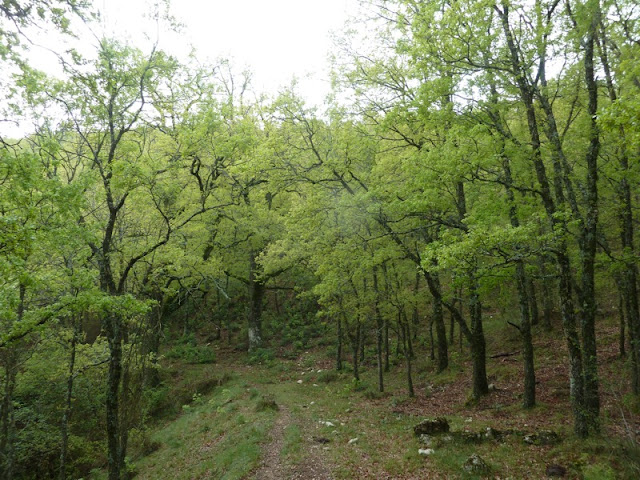 Spring growth
The next stage of the journey was up along a bottom of a dry river bed heading north. Although the heavy rain had gone it was still drizzling and didn't stop until just before El Boixar. Again a lovely trail which as you approached the top started to open up. It was uphill nearly way and by the time I reached El Boixar at about 5. 30, I had walked 35 kilometres and climbed over 1000 metres.
El Boixar
The sign to La Senia, at El Boixar, said 23 kilometres which I must admit was a bit of a blow much further than anticipated. Setting of and just outside the village I took the first left rather than the second and had gone about 2 kilometres before I realised my mistake. There were no GR signs to follow. To get back on track I could go back or head straight down the side of a gorge, through trees and get on the right route the direct way. I went with the second option and had to survive some very wet, very steep bushwhacking.
Once on the right road it was just a case of walking as quickly as possible. They told me I would need to be there by 7.30 to guarantee the room but it was nearer 9 by the time I arrived. This was the first time I had had to walk on the road in a prolonged way since Andalucia and my feet were very sore at the finish. The signs to La Senia were now reading 5 kilometres so I had walked 53 kilometres in total.